Vegetarian Puff Pastry Rolls
These vegetarian puff pastry rolls are easy and delicious. Every time we make them everyone seems to love them. You can experiment with different fillings, but some key ingredients not to leave out are the creamed corn and cheese. They're easy for kids to make with a grown-up supervising the chopping step.
Ingredients
4 sheets puff pastry, thawed
1 carrot
1 zucchini
½ brown onion
4 medium mushrooms
1 medium tin creamed corn
1 egg
pepper and salt
½ cup grated tasty cheese
⅓ cup breadcrumbs (enough to ensure mixture is not too loose and sloppy)
parsley and other herbs of your choice (coriander, basil, etc.)
To glaze:
1 egg, beaten
sesame seeds
Instructions
Preheat oven to 200°C.
Chop vegetables finely and separately in a chopper, blender or food processor. Then place in a bowl.
Add remaining ingredients, except pastry, and mix well. The mixture should not be too loose. Add more breadcrumbs if necessary.
Cut one sheet of pastry in half. Place ⅛ of the mixture in a line along one edge of the pastry. Roll it over enough to form a long roll and seal.
Redo with remaining pastry until all mixture is used.
Cut each long roll into 4 smaller rolls.
Brush each one with beaten egg and then sprinkle sesame seeds over the top.
Bake for roughly 30 minutes or until pastry is golden brown.
Serve with sweet chilli sauce or tomato sauce and a fresh salad.
Recipe courtesy of Cooking with Ascot Primary cookbook.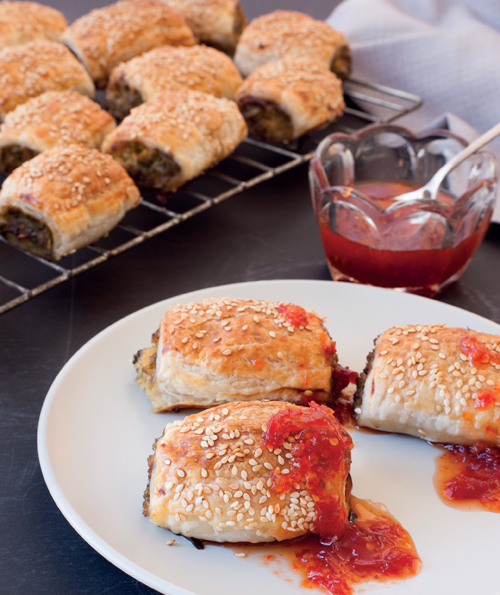 ---
Share this recipe
---