Ingredients
2 cups of spelt flour (plus a bit extra for kneading)
2 tsp cinnamon
1 tsp all spice
7 gm sachet dried yeast
Pinch of salt
Zest of one orange
½ cup milk of your choice
1 tbsp rice syrup or coconut sugar
1 tsp vanilla bean extract
¼ cup coconut oil (melted)
1 free range egg, lightly beaten
150 g raisins and currants
Flour paste:
½ cup of spelt flour
4 to 5 tbs of water
Instructions
Mix the spelt flour, cinnamon, all spice, yeast and a pinch of salt in a mixing bowl.
Warm the milk, vanilla and rice syrup just a little until it is luke warm (about 15 seconds), then pour into the mixing bowl along with the egg and oil.
Mix the dough for about 6 minutes until it is smooth and elastic. Add the dried fruits, orange zest and mix through.
Cover the bowl with a clean cloth or glad wrap and leave the dough to double in size in a warm place for about 1 hour.
Knock back the dough and tip in onto your working bench.
Knead a little then shape into 8 rolls.
Cover lightly and allow to rise for another 30 minutes or until double in size.
Preheat your oven to 160 C
Make flour paste: Mix flour and water together in a small bowl until smooth, adding a little more water if paste is too thick. Spoon into a small snap-lock bag. Snip off one corner of bag. Pipe flour paste over tops of buns to form crosses
Bake for 20 minutes until golden.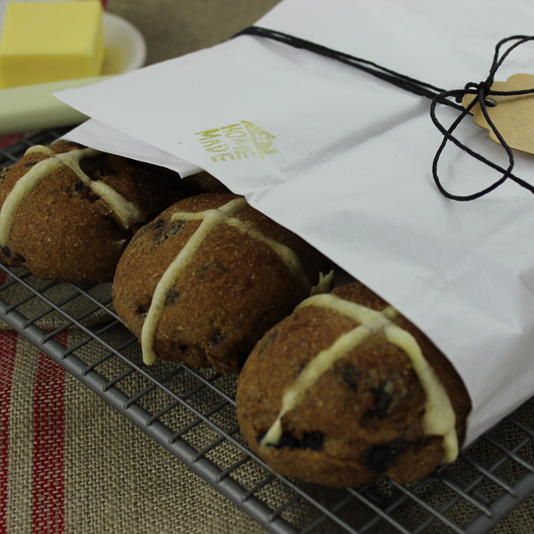 ---
Share this recipe
---